Everything You Need to Know About Real Estate in Antalya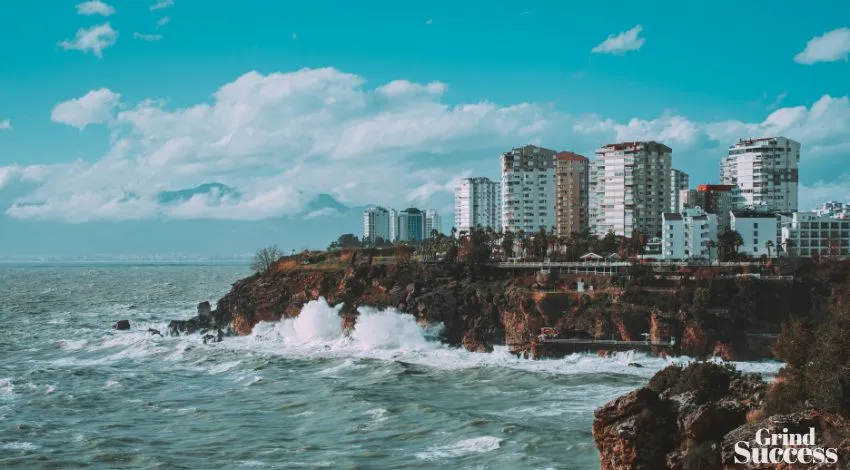 Antalya is a major city, port, and resort in Turkey and the administrative center of the province of the same name. A tender sea with clear turquoise water, excellent service, warm sun, wonderfully organized beaches, and reasonable prices combined with high quality is the main factors that attract tourists to Antalya.
Foreign investors are highly interested in apartment and villas prices in Antalya as they perfectly resonate with their business opportunities.
Real estate in Antalya, Turkey is a convenient place for permanent stay as well as a beneficial location for investments.
In this article, we are going to discuss important issues about property in the region and the number of profits it provides.
A few words about Antalya, Turkey
One of the most beautiful parts of Turkey is the big resort city of Antalya. The city of Antalya is located in the south of Turkey, in the western part of the Mediterranean.
It is built on a rocky plateau at an altitude of 40 meters above sea level, in the beautiful Antalya Bay, and the bay is surrounded by the picturesque Taurus Mountains, covered with dense pine forests.
Antalya is the largest city on the Mediterranean coast of Turkey, which can rightly be called the tourist capital of Turkey.
Sightseeing in Antalya, Turkey
Sometimes the sun, sea, water slides, and beach tire the holidaymakers, forcing them to ask about the local attractions, excursions, and attractions of Antalya.
The number and variety of sightseeing tours do not disappoint The Kursunlu waterfalls, Upper and Lower Düden, the Old City (Kaleici neighborhood), the Clock Tower, Hadrian's Arch, and the Yivli Minaret.
You can buy tickets for the Aqualand water park with children and spend a whole day there. The fountain show is a beautiful and mesmerizing spectacle for couples in love.
This list of amazing places could go on for a long time. In addition, during a visit to Antalya, it is worth taking excursions to Pamukkale and Demre-Myra-Kekova.
The famous Pamukkale has located 300 km from Antalya with its healing springs, which are included in the list of UNESCO.
The water here is rich in calcium salts and treats diseases of the musculoskeletal apparatus and cardiovascular system.
Real estate in Antalya, Turkey
The best types of real estate for investment in Antalya are villas, apartments, and land plots:
1. Villas in Antalya
Having the desire to purchase a spacious villa in a resort place, it is necessary to become aware of the main characteristics of an object. As a rule, villas are located on the outskirts, in secluded areas, and differ in size and design.
They often feature elegant design, a vast number of facilities for maintenance, and high investment opportunities. Villas may provide an ROI of about 10% during the tourist season.
The percentage is greatly influenced by the property specifications, its location, the value of the project, and other things.
2. Apartments in Antalya
Apartments in Antalya are mostly preferred by foreign investors as they feature higher liquidity. This type of property is perfect for a permanent stay and for renting out. Apartments are located in sky-rising residential complexes in the centers of the cities.
3. Land plots in Antalya
Most foreign investors choose housing units for their investment. However, some thoughtful businessmen understand the prospects of buying a piece of land.
In this territory, you may build your own house and live with your family. It is also possible to build a farm and invest in agriculture, then sell it to another buyer and get a good income. A pleasant Mediterranean climate contributes to the success of such an approach.
Reasons to buy real estate in Antalya
Having selected the suitable type of real estate to invest in, but still have some doubts?
Here is a list of common reasons why foreign investors consider Antalya an incredible place for making money:
The locals themselves are friendly, helpful, and positive. Many foreigners who have purchased real estate there feel quite comfortable there, despite the fact that there is their own local religion and culture, and no one feels pressure or the imposition of their values there.
Conclusion
The purchase of real estate in Antalya is a savvy decision for foreigners. The country guarantees the safety and transparency of each transaction.
To explore the world of comfortable properties in Antalya, visit the website, Turk.Estate. A wide catalog of outstanding villas and apartments are waiting for their owners.