How to Find and Hire the Right People for a Successful Business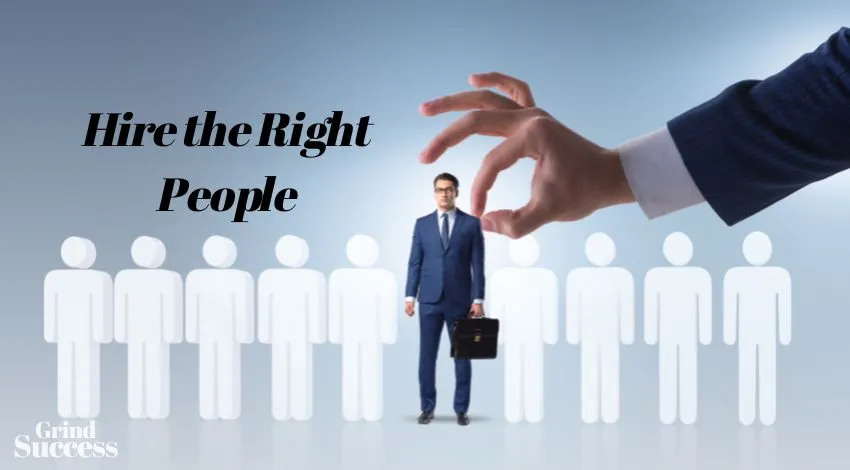 If you are a business owner or going to start a new business you might have questions in mind about how do I recruit people to my business? So if you are one of them, you are at the right palace.
Hiring is the crucial step; The right people can make the difference between a successful business and its growth whereas if you select the wrong person it will negatively affect the growth of your business.
It may cost you time and money. The right employee can perform the task properly if it is aligned with the company.
To hire the right people it is essential to have a clear understanding of a well-defined recruitment process. Some businesses depend on their gut feeling but that doesn't work every time so one can find the right employee after putting in time and effort which will help in recruiting the right person.
This article will guide you through the important tips to find and hire the right people to help your business succeed.
Tips to Follow When Hiring the Right Person
1. Define Your Needs
The first and foremost thing to consider is to define your needs. It is essential to structure the particular responsibilities and duties of the position.
For example, if you are looking for individual experience or qualification, mention certifications, education, and specific work experience. Always look for a candidate who can align with your company's culture and values.
Having a clear understanding of the requirements helps ease the process of interviewing and screening the candidates.
2. Create a Job Description
Creating a detailed and well-written description while keeping the company culture in the mind will help you in selecting the right candidate as per your requirements.
Be clear about what you are actually looking for whether it's a qualification, experience, certification, particular diploma, or course. Make an outline of every point including how to apply, and which material needs to be submitted.
Create a structured view of what you are offering with salary, benefits, health insurance and retirement plans. This will attract the right people you are looking for.
3. Recruitment & Screening
Recruitment is finding the right employee based on qualifications, job roles, and responsibilities, and experience. It can be done internally or externally. Some recruitment companies and agencies use to take the assessment for judging the candidates in an unbiased way.
The test is a blend of cognitive skills, logical thinking, and personality if it is a great fit for the company. If you score well on the assessment, the manager will contact you for further processing.
So it is essential to get a good score in the evaluation. There are many assessment practice tests available in the market.
For example, if you take a caliper practice test and practice regularly, you'll become familiar with the pattern in a few days. And after practicing for months and analyzing mistakes, it is easy to get a good score by improving your score daily in the mock or test series. 
4. Know the Skills and Experience
Knowing the right kind of knowledge and experience for a particular position is essential. It means the candidate possesses the quality and expertise to perform the given job.
For example, if you are looking for technical work, it is essential to know about the technical expertise, the platform, and all things related to a particular field.
The work history is also important to know if the candidate has done this work earlier; it is easy to make him understand and assign the task, which will save you time and effort.
Additionally, for a successful business, a candidate must possess the qualities like team building, communication skill, problem-solving, and decision-making abilities which helps in growing as well as the company.
5. Check Reference
Check for the reference is the essential step to consider if you are looking for the right candidate for your business, as it reveals the candidate's work history, method, and professional experience. It means it ensures that the candidate hasn't done anything bad in the previous company or the thing that may cause a red flag or concern.
For this, the employers need to take the 3-4 contact information of managers and colleagues with whom they work, which helps you judge the candidate the right way. If it is positive, It will also help how you can work together and from where to start, which is quite a good thing.
6. Look for the Social Media Help
The next step is to take help from social media. Nowadays, social media is a growing trend in almost every field. To find the right employee, you may take help from LinkedIn.
It is a platform where most employees and employers are in the same place. Plus, it gives the facility to speak directly, whether it's an employee or employer. And after this, you may share information like a resume or cover letter.
On the other note, if you have a good network, it is easy to identify and explore the right candidate. So make sure to use it effectively. Also on this platform, you can post about the job role and description and check for references to better reach out to the candidate.
Apart from LinkedIn, many professional websites are available that provide the same opportunity to meet both employer and candidate. So it is better to study all these points, make a structured outline, and work accordingly.
Conclusion
Hiring the right people in your organization is an important task as it represents the company's values. It will help in company growth along with the candidate.
However, it is essential to hire a good employee with skills and expertise which will be beneficial. In contrast, a bad employee will negatively impact your business or company's growth.
So it is recommended to take your time, follow the right points and you will find the right candidate for your business.
I hope this article will help you in finding suitable choices for your business or startup!!