All About Real Estate in Palm Jumeirah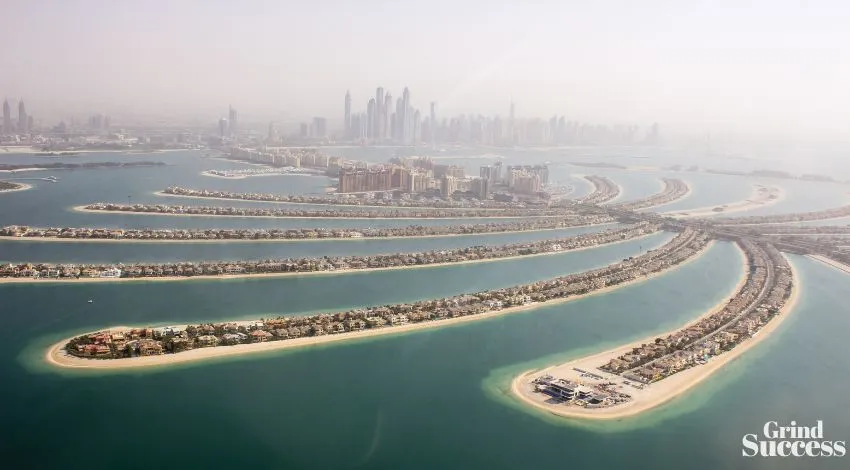 Palm Jumeirah is the largest artificial island on Earth, a true man-made marvel. Its outline follows the shape of a palm tree (trunk and 16 symmetrically arranged leaves), which is for protection from the destructive action of the waves surrounded by a breakwater in the form of a half-moon.
The island has a huge number of private luxury villas, hotels, skyscrapers, shopping and entertainment centers, parks, and beach clubs. Property in Palm Jumeirah the UAE is associated with luxury and attracts wealthy people from all over the world.
History of The Creation of Palm Jumeirah
The idea to create a unique man-made island in the Persian Gulf belongs to Sheikh Mohammed bin Rashid Al Maktoum from the UAE.
He came up with the idea in the 1990s when a plot of land off the coast of the emirate of Dubai was no suitable place for the construction of new buildings. The construction of wonder island, designed to extend the emirate's coastline to promote tourism, began in 2001.
It took 94,000,000 cubic meters of sand and 5,500,000 cubic meters of stone – enough material to build a 2.5-meter high wall around the equator of the globe. The main difficulty was that the sand from the UAE deserts turned out to be unsuitable for the construction of the artificial embankment:
it was very fine, so it was easily washed away by the water. Incredible efforts were made to take tons of sand from the seabed and transport it to the coast of the emirate. Neither cement nor steel reinforcements were needed to create the sand embankment – the entire structure is held together by its own weight alone.
Nevertheless, this unique project has proven its viability, as Palm Jumeirah has been successfully operating since 2006.
The Advantages of Real Estate in Palm Jumeirah
The island has a well-developed infrastructure. There are Nakheel Mall, The Pointe, and Golden Mile Galleria as well as numerous grocery stores such as Spinneys, Choithrams, and Allday Fresh. There are also plenty of cafes and restaurants such as KYO, Ossiano, Rue Royale, and Chuan.
Transport Accessibility:
Property owners have access to all amenities and can live as private a lifestyle as possible.
Property Types and Economic Appeal
Regardless of the dynamics of the different segments of the Dubai real estate market, Palm Jumeirah ranks among the top three most popular areas in Dubai for both buying and renting property.
Over the past 2 years, the number of high-end real estate transactions with an average value of more than AED 10,000,000 ($2,723,000) has increased significantly, and on the island, it has even doubled.
The popularity of the region has been influenced by the pandemic. More and more people were thinking about moving into detached homes that allowed for ample space.
A large number of residential complexes can be found on Palm Jumeirah, with properties ranging from studios and 1-5 bedroom apartments to 6-bedroom penthouses. There is also a wide range of luxury villas, of different styles and layouts.
There are traditional Arabic-style homes, ultra-modern hi-tech villas, and luxury vacation homes. Interested renters can find townhomes and penthouses with unique layouts in the neighborhood. These villas are not only equipped with various amenities but also have direct access to the beach.
Real Estate Prices
Real estate prices in Palm Jumeirah are targeted at different budget levels. A studio apartment can be bought for an average of AED 1,170,000 ($320,000), 1-bedroom apartments for AED 2,240,000 ($600,000), and 2-bedroom apartments for AED 2,700,000 ($736,000).
There are also such grand projects where you can buy a villa for $ 10,000,000, but they do not belong to the segment. If you are planning to buy an apartment and use it as an investment to get rental income, note that the average return on investment in apartments on the island is 3.71%.
Help in Finding Apartments in Palm Jumeirah
The Emirates. Estate websites can help you find properties in any of Dubai's communities. With the filters of the search system, you can set a purchase budget limit, and find housing by type or location.
Specialists are ready to answer any questions related to choosing and buying overseas real estate in the UAE. You can study the price policy of the region in real-time.