Top 10 Spiritual eBooks That Community Love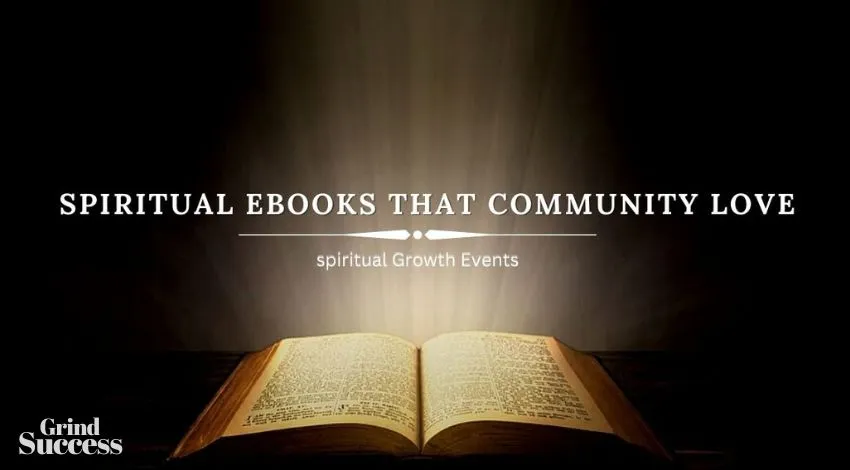 In this article, there is a best spiritual reading list that people will love to read. Reading is the most important thing when growing and learning. Spiritual books are the best way to find yourself.
In this article, I will talk about how to find and where to find spiritual ebooks for you and also will mention which books are best about spirituality. I will mention the best site for Free Spiritual Ebooks.
Top 10 Spiritual ebooks to read
Here are the best books about spiritual life for beginners. For finding Free Spiritual eBooks, You are on the perfect page. Love, dignity, Determination, aspiration, etc are the moto of these books.
I want to inform you What is the difference between a Book and an eBook? Books are the hard form that can be touched physically and an eBook is also a kind of book but in digital form. Let's start with the best book about Spirituality.
1. The Little Soul and the Sun
This book is written by Neale Donald Walsch. This book is written for Children. If you will read this book you will be in tears. This book is an amazing book about Spirituality. This book is one of the best ebooks on the internet. This book has an amazing rating of 4.6 on Goodreads.
This book is specially designed for children, so I will recommend you read this book. This book is about the discovery of life, who we are, and who is God. One of the best spiritual eBooks.
2. The Power of Now
The Power of Now (A Guide to Spiritual Enlightenment) is the best book which is written by Eckhart Tolle. For me, it's the best book ever. In this book, the author wrote about the happiness and joy of the present. He says that Present thinking is more important than why we waste a lot of time thinking about the Past and Future.
If we explain the book in a short time, the book is all about the Present. I think that book is really good because we don't need to worry about the Future and the Past. we have to joy the present with our r deep hearts.
3. The Seven Spiritual Laws of Success
The Seven Spiritual Laws of Success (A Practical Guide to the Fulfilment of Your Dreams) is a book written by Deepak Chopra, which was published by New World Library. Now I will discuss the summary of the Book.
In this book, the author described seven SPiritual laws of success. In this the Seven Spiritual Laws of success, the author described all laws.
I am listing the seven laws are following below:
4. The Cross and the Lynching Tree
The Cross and the Lynching Tree is a spiritual book which is written by James H. Cone. The cross represents divine power and the dark life of God overcoming the power of sin and death, whereas the lynching tree stood for white strength and black death.
Even during the lynching era, African Americans' belief that God was with them was strongly grounded in the image of Jesus.
5. The Astonishing Power of Emotions
The Astonishing Power of Emotions is written by Esther and Jerry Hicks. This book is all about mental thoughts. how our emotions affect our mental, physical, and spiritual health.
In other words, we have the propensity to believe that our emotions are real and that we are the ones who are experiencing them rather than the other way around. In reality, emotions are a by-product of our thoughts.
Our body reacts by being balanced, centered, and calm when our thoughts and emotions are positive. Negative emotions follow negative thoughts, making us feel depressed, stressed, weighed down, and even toxic.
6. Many Lives Many Masters
This book is interesting to know that the writer of that book is Dr. Brian Weiss. Dr. Brian Weiss is a Psychotherapist who wrote the story of his patient in this book. I think that is the most interesting book near to me.
It's all about healing. a patient who exhibits fear and anxiety symptoms. Catherine accesses past experiences and learns wisdom from the spiritual world, including insights passed down from spiritual beings known as Masters, after being put into a hypnotic regression trance to identify the cause of her trauma.
Weiss is a natural skeptic at first, but by the book's conclusion, he has transformed into an enthusiastic spiritual practitioner and intuitive knowledge believer.
7. A God In The Moon
A God In The Moon – Your Guide to The World of The Trinity Matrix is written by Roger A. Turner. We can recognize the message of unity in music, art, and books because it manifests itself in many different ways. In his book, Roger A. Turner highlights his talent for fusion cuisine.
He presents the Trinity as a unified pattern by dissecting the parallels between various religions, mystics, sciences, astronomy, numerology, and semiology. For readers who are interested in delving deeper than conventional doctrines, the contemplative work can be a source of revelation.
There is a good chance that you will share the author's perspective if you adhere to the fundamental teachings of holy books like The Bible, The Torah, or The Quran and are open to basic principles of kindness and compassion.
8. The Four Agreements
The Four Agreements: A Practical Guide to Personal Freedom is a book Which is written by author Don Miguel Ruiz.
The Four Agreements are:
How to love yourself more, stop taking things personally, and mend relationships are all demonstrated in The Four Agreements. Don Miguel Ruiz offers advice on how to get out of this false "dream" of social norms, expectations, and judgments by drawing on the indigenous Mexican Toltec culture.
9. Radical Compassion
This Book Radical Compassion The Four Agreements: A Practical Guide to Personal Freedom is written by Tara Brach.A useful manual for letting go of unpleasant feelings and spreading more love, forgiveness, and compassion throughout the world.
RAIN, a straightforward four-step meditation method that aids practitioners in developing the inner strength to overcome life's many challenges, is presented by mindfulness expert Tara Brach.
10. A New Earth
A New Earth: Awakening to Your Life's Purpose is written by Eckhart Tolle. A New Earth investigates a chaotic and frequently crazy world. In order to build a better world, Eckart Tolle urges us to awaken our consciousness.
This change will have a significant impact on all life forms because consciousness and ego are inextricably linked to life on Earth.