How to Make Stickers With Vograce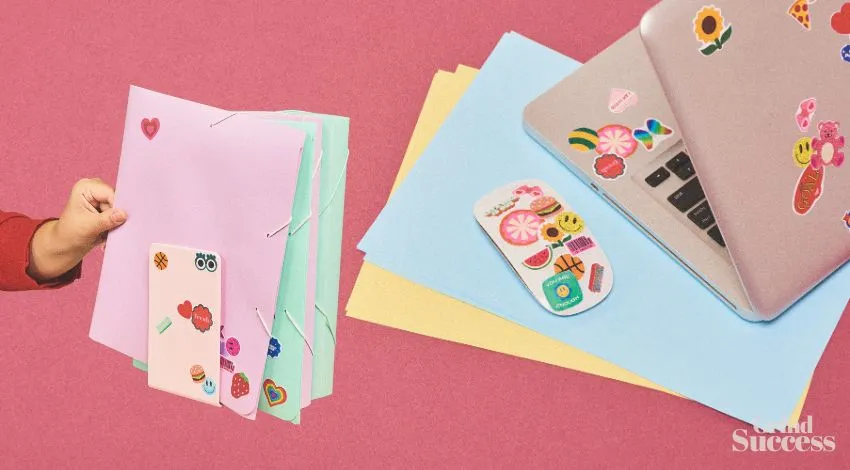 Are you looking to create your own personalized stickers? Look no further! In this guide, we will walk you through the process of making stickers with Vograce.
Vograce offers a wide range of sticker options, from regular vinyl to holographic and craft paper stickers.
Whether you want to showcase your artwork, promote your business, or simply add a touch of creativity to your belongings, Vograce has got you covered.
Vograce is well known for its variety, awesome print quality, well-cut designs, and durable, waterproof, and fade-resistant properties.
By utilizing Vograce as your supplier, you can have fun turning your art into stickers and generate potential sales on platforms like Etsy and artist alleys.
Here are some useful tips to guide you through the process:
Create designs
Firstly, start by creating a drawing or design that you want to turn into a sticker. While there aren't strict scaling limits for stickers, consider fitting your design into a square shape or opting for a chibi-style or clean design for better visibility.
It is recommended to select 300 DPI (dots per inch) or higher resolution with CMYK colors scheme. Save the file in PSD, PNG, PDF, or AI file format.
Vograce provides clear instructions and guidance in their blogs with helpful tips on preparing your art before submission.
Visit the website & check the reviews
Once you have your design ready, visit the Vograce website, which offers a user-friendly system for ordering custom items of your own art.
Explore their dedicated sticker section, where you can choose from various options like materials. If you want glitter stickers, select the glitter option.
Check different materials
Vograce offers a variety of materials to stand out in the designs. Choose the right material: Select the appropriate sticker material for your needs, such as vinyl, clear, craft paper, or recycled paper. Each material has its own unique characteristics and finish.
Explore various options available from manufacturers such as regular vinyl, vinyl holographic, clear, holographic, glitter, prismatic, mirror, static cling, craft paper, frosted, brushed gold, and washi stickers.
Combine materials to add depth and visual interest, creating a captivating accessory that's sure to turn heads.
Choose size according to design
When it comes to sizing, a recommended size is 2.5, striking a balance between not too tiny and not palm-sized.
A larger size can make a bold statement and allow intricate details to shine.
On the other hand, smaller sizes are perfect for subtle accents or creating a collection of mini-masterpieces. Choose the size that best compliments your design.
Select quantity & complete the order
Ordering more products qualifies you for discounts. Upload your art and add it to your cart to complete the ordering process.
Take advantage of discount events and consider their VIP membership for year-round discounts and benefits.
Bulk orders may qualify for discounts, but shipping prices should be considered separately.
Explore other items
Be versatile & don't limit yourself to just one form of expression. Vograce offers a variety of products & design inspiration, including custom keychains, acrylic stands, enamel pins, buttons up to custom body pillows. You can use all these items to showcase your artwork.
Take advantage of this versatility by exploring different mediums to showcase your artwork. Boost your impression for sale by exploring different mediums to showcase your artwork.
From cute characters, and anime to inspiring quotes, there are endless options!
Before manufacturing Vograce asks you to verify the design & make any changes. Check the color accuracy of the stickers by comparing the final product with your original design.
It's also useful to order some samples if you want to work long-term.
Die cut vs Kiss-cut Stickers
Die-cut stickers are precisely cut through both the vinyl or paper material and the backing material. The cutting process follows the exact shape of the sticker design, creating custom shapes with clean edges. They are typically used for intricate designs, logos, or artwork that require specific shapes.
Kiss-cut stickers are partially cut through the vinyl or paper material while leaving the backing material intact. The cutting process only goes through the top layer of the sticker, leaving a border or a surrounding "kiss cut" line around the design.
Kiss-cut stickers are often produced in sheets, with multiple stickers on a single backing sheet. Kiss-cut stickers are commonly used for sticker sheets, promotional stickers, or designs that require easy peel-off.
Conclusion
Vograce is a great option for those starting a small store, selling products at conventions, or looking for gifts due to their low minimum quantity and affordable prices.
When it comes to personalized accessories, quality matters. Vograce takes pride in delivering high-quality products that not only look great but also stand the test of time.
Personalized stickers and keychains can also be used as a gift for your loved ones. Surprise your friends, family, or even your loyal customers with custom-designed accessories that reflect their interests and passions.
From the printing process to the durability of the materials, you can trust that your personalized designs will maintain their vibrant appearance, no matter where life takes you.
Stay ahead of the fashion curve and unleash your creativity with vograce!
Good Luck…